---
Famous for her self-deprecating humor and quotes, Phyllis Diller once said, "A smile is a curve that sets everything straight."
While there is truth to it, you will find it hard to confidently smile with crowded or crooked teeth. So, when it comes to straightening misaligned teeth, you have two main choices: Traditional Metal Braces or Invisalign Clear Aligners.
Teeth straightening is usually given to those who have misaligned or crooked teeth. But, it can also help resolve other dental problems such as overbite and crowding. In the US, about 20% of adults do not have a perfect bite.
In a survey conducted last 2016, results showed how straightening one's teeth can put a positive impact on an individual's confidence, success and happiness. Survey showed that 92% of adults claimed that having straight teeth gives them higher levels of confidence.
That is why more people undergo dental treatments to have their teeth straightened. More than 70% of the adults who participated in the survey declared that having their teeth straightened was one of the most significant dental treatments they had.
What are Braces and Invisalign?
There are many types of orthodontic treatments to correct or straighten misaligned, crowded, or crooked teeth. The most common are the traditional metal braces and the clear aligners or more popularly known as Invisalign.
While booth attain similar results, the process is not the same. Braces and Invisalign can straighten teeth to improve the overlook of your teeth and at the same time improve function.
Braces are made up of metal brackets bonded to your teeth and supported by metal wires and small rubber bands. While braces are completely visible and can cause discomfort, some people try to live with it and opt to make a fashion statement instead by using various colored bands.   
Invisalign clear aligners are completely different. As the name suggests, Invisalign is "almost" invisible. These clear aligners are made up of plastics that are totally BPA-free. They have been carefully molded based on the impressions taken from the user's mouth. This is a good match for those who are self-conscious and worry about the way they look while undergoing this particular dental treatment.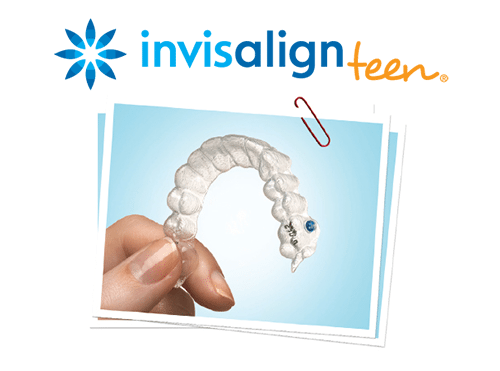 Which One is Better: Braces or Invisalign?
While both provide teeth straightening, choosing one over the other is a matter of preference and personal choice. However, there are cases that your dentist may recommend one over the other.
To understand more on how they work and which option is best for you, we have listed some pros and cons to help you understand which one is a better treatment for you.
Braces – Pros
Generally offered by most orthodontists and widely available

Has a solid and vast success history

Non-removable so you can expect continuous straightening of your teeth all throughout the course of your treatment

Customizable – If you cannot do away with the metal being visible, why not make a fashion statement out of it instead. You can use a different color for the bands each time you visit your orthodontist.

For more complex cases, braces can provide better treatment

Follow-up visits takes place every month
Braces – Cons
You may experience discomfort with the wires attached to your teeth. There might be some pain or sores caused by the tooth movement or the brackets.

You may have difficulty eating certain types of food such as hard and sticky foods

Highly visible – although this may depend on the person wearing the braces

Not suitable for patients with gum problems

Possibility of tooth discoloration
Invisalign – Pros
Designed to be "invisible", your teeth will appear normal and will not change the way you look

No restriction on food types

Although there can also be pain when the teeth move, there's no discomfort from wires and brackets

Removable – you can easily remove the trays for brushing, eating or when you want to floss your teeth

Maintenance is easier – no looping through brackets required
Invisalign – Cons
Removable – although it is already an advantage against braces, Invisalign is not suitable for people who cannot comply. Since it is removable, there's a tendency to forget to wear them as often as needed.

High probability of loss since it can be removed – can be costlier with frequent replacements

Severe cases of misalignment or crooked teeth may not be good candidates for Invisalign

Requires brushing after each meal to avoid stains on teeth
Indeed, choosing between braces and Invisalign is not easy. They are almost equal in pros and cons. So, it all boils down to preference and personal choice.
At Friendly Dental, we can discuss with you both options and assess your condition so you can easily decide which treatment to take. Contact us today for more information.
---